4 Top Places to Go Boating around Sydney
Blog
| November 27th, 2019
Whether you have a new boat, cruiser or an old fishing vessel finding a nice place to go boating around Sydney can be tough. So we've put together our 4 Top Places to Go Boating around Sydney.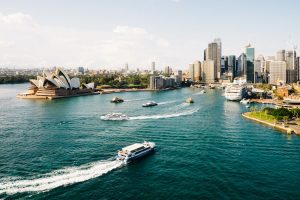 Jervis Bay is 15 kilometres long, with picturesque blue water and a fringe of white sand. The tranquil waters make this one of the best boating destinations on the New South Wales coast.
Jervis Bay Marine Park is a beautiful place to explore. Fishing is popular in the bays and estuaries, and you can find leatherjacket, flathead and snapper in abundance.
Currambene Creek, which feeds into the bay,  is a safe fishing spot that is easy to navigate for those less confident on open water. Here you can throw out a line for bream or trevally to fish up lunch for the whole family.
Travel time from Sales Trailers – 2 h 32 min (182.0 km) via M1 and Princes Hwy
Lake Illawarra  is a great spot for all water sports, including fishing, sailing and water skiing. Around the lake you will see birds such as cormorants, pelicans, ibises and spoonbills.
There are 13 boat ramps around the lake, so it's easily accessible. On the shore, Reddall Reserve is a nice place for a picnic on dry land.
Travel time from Sales Trailers – 1 h 15 min (84.9 km) via M1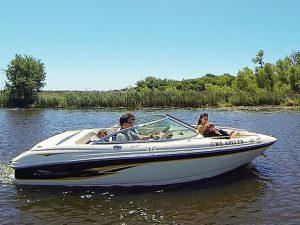 Hawkesbury River  is north of Sydney is the vast Hawkesbury River system. This is the perfect spot to escape from the city for a while, with lush native forests and national parks adjoining calm waters ideal for cruising. You could come back here over and over again and find something new each time!
It's a great spot for fishing for bream or bass and around Broken Bay at the mouth of the river you can fish for salmon, yellowtail kingfish and other species all year round. The river is also great for towsports such as water skiing and wakeboarding.
Travel time from Sales Trailers – 1 h 59 min (91.0 km) via Old Northern Rd
Shoalhaven heads is ideal smaller boats and can go as far as 50 kilometres up the Shoalhaven River, and you can fish for bream and bass here all year round. Around 75 per cent of the catchment is national park, so this is an excellent nature spot, with bushlands and escarpments giving you a change of scenery from the coast.
While you're there, you can cruise around Comerong Island. Set in the mouth of Shoalhaven River, this is a nature reserve with plenty of birds, fishing spots and picnic areas.
Travel time from Sales Trailers – 1 h 46 min (129.9 km) via M1
Be sure to have your boat trailer serviced or repaired Sales Trailers on (02) 9533 3652