Brake Actuators Hydrastar vs AL-KO iQ7
Blog
| September 23rd, 2020
Large boat trailers need large brakes. We take a look at two popular boat trailer brake actuators, Hydrastar and the AL-KO iQ7.
Hydrastar Brake Actuator Kit –
The Hydrastar electric over hydraulic (EOH) trailer brake actuator gives you the reliability and confidence you expect and need from your trailer braking system. With Hydrastar you get the fastest response time for shorter stopping distance, so in emergency situations and in your day to day towing, you can control those precious fractions of a second that matter when it comes to stopping your trailer.
Industry leading Hydrastar actuators are easy to install and meet all DOT and federal braking requirements – unlike surge brakes, which are illegal in many states. Hydrastar has improved the stopping performance for trailers hauling boats, RV/towables, horses, cars, construction and farm equipment, and many other loads.
SPECIFICATIONS
2 year warranty from date of purchase
Sealed, extruded, anodized aluminum housing (not cast or plastic)
Dimensions: 11.8" L x 3" W x 7.3" H
Trailer mounted
12 V DC operation
Solid state electronics
Uses DOT 3 or DOT 4 brake fluid
Easy to install, (4) 12ga wires

Black – constant power
Blue – brake controller
White – ground
Yellow – Break-Away

Available in 1000,1200, and 1600 psi for any trailer configuration with 1-3 axles
Meets all DOT regulations
Complies with CFR-393 braking requirements
For more information visit: https://www.hydrastarusa.com/products/hydrastar/
AL-KO iQ7 Power Assisted Braking –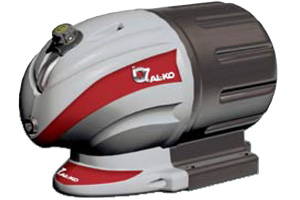 The AL-KO iQ7 is the latest in power assisted braking, designed to significantly improve stopping performance and safety for trailers with hydraulic brakes, especially large boat trailers.
It allows immediate brake application the instant it is required. And iQ7 includes inbuilt breakaway technology to stop your trailer if it becomes detached from the tow vehicle. No other parts are required.
Meet your legal requirements
In addition AL-KO iQ7 enables you to meet the legal requirement that all trailers with a loaded weight exceeding two tonnes (2.5 tonnes in New Zealand) must incorporate power assisted brake application.
Until recently the most popular solution was to fit a vacuum or compressed air system to the tow vehicle, but not only is this very expensive it often also means that the warranty of the tow vehicle is voided.
Fitting the AL-KO iQ7 system allows the legal use of hydraulic disc brakes for towed vehicles and trailers over 2 tonne in Australia and 2.5 tonne in New Zealand, and also provides superior stopping performance.
The bottom line is you'll enjoy superior safety and peace of mind while knowing AL-KO iQ7 has been designed and manufactured in Australia for Australian conditions, backed by AL-KO's global expertise in towing safety.
When an emergency braking situation occurs, the common downfall of some earlier electro-hydraulic brake actuators was time-lag or delayed response time.
This is due to the delay in receiving a signal from the controller and the time taken for the electric drive motor to pump enough fluid to activate the master cylinder.
AL-KO has addressed this, not only through its advanced XTREME electronic controller but, by utilising a compressed air reservoir to provide instant activation of the hydraulic master cylinder. This has resulted in an unparalleled response time.
Only AL-KO iQ7 stores compressed air within a pressure chamber, allowing immediate brake application the instant it is required.
SPECIFICATIONS – visit: https://alkoiq7.com.au/