Sydney's best and biggest boat trailer parts.
Blog
| April 2nd, 2022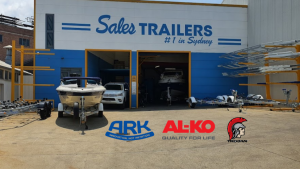 At Sales Trailers we have been offering our customers the very best boat, jetski and custom trailers for over 40 years. Part of offering a quality product includes quality and reliable boat trailer parts. That's why we only use and recommend the best spares and replacement parts for your boat trailer.
Some of the best brands in boat trailer parts:
AL-KO – For over fifty years, AL-KO has been one of the leading Australian trailer & caravan parts manufacturers across the trailer, caravan and motorhome markets. With leading products including Tow Assist, Enduro X, LightR, iQ7, ATS and other quality innovations, you can rely on AL-KO Australia to deliver quality Australian trailer & caravan parts for your towed vehicle.
ARK – ARK are the leaders in trailer parts, towing gear and 4WD accessories. We have been in the game for just over 40 years and can proudly say that we are the only major company in Australia that is truly 100% Australian-owned and 100% independent, so you can rest assured you're getting quality products that supports workers in your own backyard.
TROJAN –  For over 25 years the name Trojan has been seen throughout the retail sector as the product of choice and continues to do so today. Since our inception, we have created innovative and affordable products for use in the Trailer and Recreational towing segment, manufacturing products to an international standard.
If you are looking for a replacement part for your boat trailer or box trailer, contact or visit us today.
14a Barry Avenue, Mortdale NSW 2223 Australia
Phone:  (02) 9533 3652
Email:  sales@salestrailers.com.au